Fromm A335 Manual Combination Strapping Tool
The Fromm A335 is a manual combination strapping tool designed for use with high-tensile steel straps. This is a lightweight combo tool that stands out for its robustness and reliability. It works with steel straps of width 1/2" to 3/4" and applies a sealless joint. If you are looking for a robust tool for low-volume strapping applications, this is the perfect option. Weighing just 8.9 lbs, it can be used anywhere. Since this is a manual tool, you are not limited by air lines or power cords.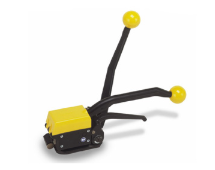 Technical Specifications
The Fromm A335 has the following key technical specifications:
Strap Quality: High tensile steel strapping
Strap Dimensions: Width 1/2" (12.7mm) to 3/4" (19mm) and thickness 0.020" (0.50mm) to 0.023" (0.58mm)
Weight: 8.9 lbs or 3.9 kg
Seal Efficiency: Up to 80%
This combination tool is also perfect for those who are looking for a backup tool that can take up tasks as and when required. It is perfect for strapping flat loads including cases, crates, bales, and pallets among other types of flat packages.
The tool operates allows you to pull tension with 2 levers. Its ergonomic design and lightweight make it an easy-to-use steel strapping tool. It applies a sealless joint, making the applications more cost-effective. You can also order accessories for making applications simpler. This includes the following:
Horizontal Applications: Bolt and grip ball
Vertical Applications: Suspension bracket
These accessories for the A335 need to be ordered separately.
Advantages of Using Fromm A335
There are many advantages of using this manual steel strapping combo tool, including the following:
A highly rugged tool that can be used for in a wide range of applications and environments
Lightweight tools (8.9 lbs), which makes it perfect for horizontal strapping applications
Sealless joints help increase cost-effectiveness by up to 10% in comparison to the use of seals
The joint has very high reliability. Sealless joint has higher seal efficiency than joints created with separate seals.